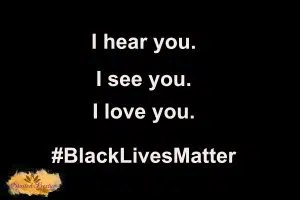 I grew up in a small, rural town in Connecticut and didn't really know anything about racism, yet it was all around me. In my first teaching job, in a large inner-city, the principal told me that if I could teach there, I could teach anywhere. Those were some of the most rewarding and challenging years of my teaching career. It was there that I witnessed a kid getting shot coming off a school bus, kids coming to school for protection and food and so much more that opened my eyes- a world I have never witnessed.
I didn't understand white privilege or even know what it meant even after numerous diversity training for white teachers who teach students of color.
Well, now I get it. I have never feared for my boys as they were leaving the house. I was never followed in a store or questioned about purchases. Although uncomfortable about being pulled over for speeding, I never once thought I could end up dead from the interaction. And the list goes on…
Black Lives Matter. 
I want to live in a world where we are loving and kind to one another even while holding different beliefs. As my friend Kate says, "I have a deep faith in what's possible." And I do. My mission for Spirited Practice is to create harmony on the planet through sound and silence. I've always championed the LGBTQ+ community and now will be sure to include Black and People Of Color in my mission.
I have a lot to learn and implement, and I'm also open to conversations, those conversations that might make everyone uncomfortable.
At first, I was paralyzed wondering what I could do, and then I realized that my years of practice were helping me to be part of the solution by being able to stay grounded and calm. I open my heart to every student that enters my classroom or studio and do all I can to make each person feel welcome. And there's so much more to be done. The momentum has begun. Change is happening. I have always said small changes over time create the biggest results. I am reading, listening to podcasts, taking some up-to-date training, and having difficult conversations. One of the most important things with change is that we don't stop.
In the past, when things have gotten really stressful and I needed my practices the most, that's when I have stopped doing them. 
This year, instead of giving in to that pull of wanting to give up–I dug deeper into my practice. At times, I was still unsettled, but I made it through stronger than when I started. This is not about willpower–though some will call it such.
Below are some resources and I'd like to assist you in making small changes over time. I will be offering a free webinar on turning your self-care into soul care. Register here.
Here are some of my favorite resources:
Google Doc with TONS of resources: 
Books: 
The Bluest Eye by Toni Morrison
If You Come Softly by Jacqueline Woodson (teens)
The Hate U Give by Angie Thomas
How to be Anti-Racist by Ibram X. Kendi
Donate/Resources: 
Dive in Well  – supporting diversity in wellness
Article: What is White Privilege?
I am 100% an ally for BIPOC, humanity, social justice, equality, and fair treatment. I am open to learning and deep conversations, always.