I can't help but think of the transformation Ebenezer Scrooge goes through in The Christmas Carol, by Charles Dickens. Most of us know that story in one way or another. Some of us might even be interested in seeing our past, present and future. I'm not so sure.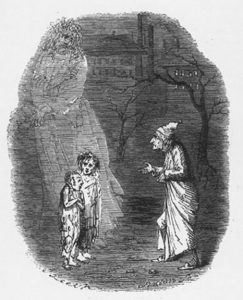 One thing I am sure of though is that Ebenezer became grateful for what he had and I'm guessing he lived longer because of it.
What can you do to be grateful without having to be visited by ghosts?
First of all make sure that your practice is something you can commit to. It's not a practice if you only do it when you need or want something or when you remember.
1. My favorite is to hold my gratitude stone, a beautiful piece of pyrite gifted by a dear friend, and say three things I am grateful for before going to sleep. Out loud or silent, it doesn't matter. You can do this with or without a stone. I happen to have an affinity for stones.
2. Keep a gratitude journal where you can write down what you're grateful for each day. Choose a time of day and the number of things you want to write, and do it each day.
3. Do something kind each day for someone without telling them about it.
4. Write hand-written thank you notes when someone does something nice for you. Send them through the mail.
5. Volunteer where your skills are needed.
6. Watch what you say. Speak honestly and kindly. When something needs to be said that might be considered constructive, think first, let your emotions subside and say what you need to say.
7. Take a vacation from complaining or give it up for good.
8. Begin to notice how your see situations. Change what you can.
9. Look for what you want to see in the world. It's there.
10. Stay away from people or situations that bring you down when possible.
Why practice gratitude?
There is a long list of benefits for practicing gratitude: you will feel better about yourself, you will feel physically and emotionally better, you'll have more energy, sleep better, people will like you more, and the list goes on.
Here's a wonderfully succinct list by Amit Amin, The 31 Benefits of Gratitude You Didn't Know About: How Gratitude Can Change Your Life.
I'd love to hear other practices you do or some results that you get. Please comment below.
Photo Credit: 
http://www.jacknearyonline.com/sites/default/files/christmascarol.jpg