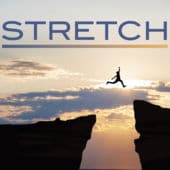 My life changed drastically on October 1, 1985. I ended up in an alcohol treatment center. The details of how I got there aren't important at this point. But let's just say, I was in the right place.
Surprisingly to me, I'm still sober–today, 33 years later. Almost as surprising is that I'm still doing yoga. I was gifted a book about yoga, Yoga 28 Day Exercise Plan, by Richard Hittleman, early in my sobriety because I couldn't sit still or handle my emotions. Who knew where it would lead? Certainly not me. It was before the internet and yoga studios on every corner and yet the practice stuck for me because it worked. It helped me to feel my body, focus my mind and taught me to let my emotions flow in a healthy way.
I've learned so much since that time about myself, people, and that ever-present change. Life is a series of changes and we can go with the flow or let it create havoc in our lives.
I was recently invited to participate in a podcast about change, called STRETCH by Alison Kuhlow.
For this week's post, I've included the podcast. Here's the link. It's about a 20-minute listen. What makes this podcast special is the way that Alison tells the story. She is a master with words and an amazing storyteller.
She was able to take my story and make it accessible to anyone–whether you have a problem with addiction or not.
I hope you enjoy. Let me know your takeaways in the comments below.