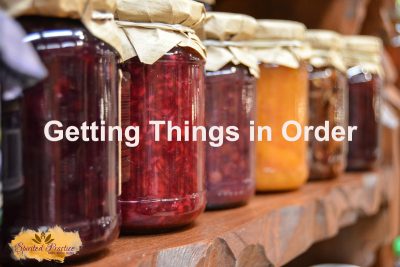 There are many aspects to ordering our lives:
            Body paying attention to what goes in and what comes out

            Boundaries—with all the topics listed

            Business including money, systems

            Electronics phone apps, computer documents, and programs

            Energy—how you use your energy

            Family—immediate and extended

            House including each room and cabinet, clothing, cleaning products, cosmetics, books

            Lifestyle—how you choose to live

            Joy—what brings you joy

            Relationships—who do you want to spend time with
I realize that this is a long list and you don't have to do it all at once. Choose the area that is causing you the most stress and start there. I often say small changes over time create the deepest and most lasting results.
A few years back, I was at a women's networking event. The woman sitting next to me said, "I help people get their shit together." I immediately thought I need this person in my life, and she has been in my life ever since. She has helped me organize my business, my money, and my mindset.
I have followed an Ayurvedic lifestyle for many years now and part of my process is whole foods cleansing in the spring and fall. I have had the honor of guiding many people through this process. What we take in is as important as what we release. High-quality food, water, air, media, people all influence how we feel.
This time in self-quarantine has been challenging and wonderful at the same time. Looking at how I am in life, in a relationship, in business, and on the planet, has been eye-opening. It is an act of self-love to CHOOSE who and what is in my life.
Take a moment to look at your life. What area do you want to tackle first?
And then begin one step at a time.
If you'd like some assistance, my dear friend and colleague is offering a Psychic Spring Cleaning. You can get more information here.